♥ What is Mtredi Card of Aversi?

"Mtredi" card of "Aversi" with accumulated discount has been created especially for loyal customers.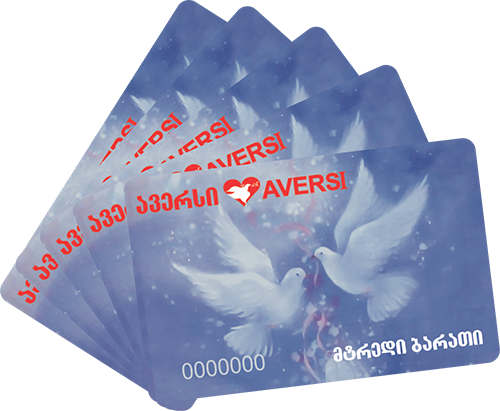 ♥ How can I become the owner of Mtredi Card?
When you buy any products at "Aversi "pharmacy, you can fill in the special form and become the owner of the card of accumulated discount.

♥ How does this card work?

You should have the card with you every time when you want to buy something at "Aversi" pharmacy. Buying the medicines, cosmetics or other products is possible by cash or via bank card (Visa card, Master card or others).The card of accumulated discount of "Aversi" is not the form of payment, there is no sum on this card.
You can receive the information about collected points on your card at any "Aversi "pharmacy or on "Aversi" web page.
♥ What does the accumulated discount mean?
You may accumulate "mtredi" points, purchasing the medicines also with discount and receive any product the cost of which corresponds to the accumulated points. Only the owners of "Mtredi" card may choose and receive the desired product. You should present your "Mtredi" card or ID card.

♥ Can the card be given to somebody else?

You can give the card to your friend or family members; in this case you will accumulate the amount of money you want faster.
♥ You can receive by the way of discount:

"Mtredi" card represents the property of "Aversi" and in case of its loss or damage, please immediately inform the company. Besides, in case of unwillingness to receive notifications about current promotions, please contact the hotline: 2900-800. In case of finding the card, please return it to "Aversi".
Thank you for your cooperation